The fees below are for 2017 Saturday Weddings.
Fee reductions are available for other days. Call or email for a quote.
2017 about booked. Some Saturdays still available, other days more availability. 301-746-4083
2 Hours of Wedding Coverage ~ $650.00
(150+ Professioanlly Adjusted Images + Extras)
3 Hours of Wedding Coverage ~ $900.00
(150+ Professioanlly Adjusted Images + Extras)
4 Hours of Wedding Coverage ~ $1,250.00
(200+ Professionally Adjusted Images + Extras)
5 hours of Wedding Coverage ~ $1,500.00
(250+ Professionally Adjusted Images + Extras)
6 Hours of Wedding Coverage ~ $1,800.00
(300+ Professionally Adjusted Images + Extras)
8 Hours of Wedding Coverage - $2,300.00
(400+ Professionally Adjusted Images + Extras)

All of the above rates include the following:
6-8 HOUR WEDDINGS RECEIVE 4 X 6 INCH PRINT PROOF ALBUMS
INCLUDED!
200 IMAGE PROOF ALBUMS FOR 6 HOURS
300 PRINT ALBUMS FOR 8 HOURS
Photography by Crede Calhoun.

Quick view gallery of 30-50 images within 7-10 days of your wedding. Will send you the high resolution images as well.

Your unlimited usage of created work with no further compensation required. Design your own albums on Shutterfly or other online photo service. Select options from our add-ons like design help, DVD slideshows and more. Upload to the album design site of your choice is included.

Individual Image adjustment by the photographer for quality and special effects. Approx double the time required as during the wedding.

No travel fees if within 90 miles of Friendsville, MD. This includes Wedding Photography for Pittsburgh, Nemacolin Woodlands, Canaan Valley, WV, Morgantown, Clarksburgh/Fairmont, Petersburgh, and Snowshoe WV, Cumberland, and Deep Creek Lake, Maryland.

High resolution adjusted images on presentation DVD's with cases, AND extra and outtake images as well on disc. Print and work with your images to your hearts content with no further comepnesation to VQS.

Online gallery (password protection avail.) of the adjusted images where friends and family can view the wedding images and order prints for reasonable prices as an option.

Your choice of the following (for wedding coverage of 6 hours or more) 2- 10 X15 prints, 4 8X10 Prints, 6 5X7 Prints - can be all different. As an optional service we can also help you produce outstanding display prints on canvas, metallic paper, matted and framed.
Call or email for ideas and quotes.
POPULAR Add Ons -
Digital HD Slideshow On Blueray or DVD Disc set to music with titles etc. 3 Discs in Laser Labled Presentation cases. 300 adjusted images.
$375.00.

Custom designed hardbound coffee table style wedding album. Designed by Crede with the ability for brides and grooms to edit and revise the design online before publication. 43 pages approx 140-200 images.
$350.00 ~ 1 copy included, add'l copies at cost, approx $60 each.


Extensive and wide variety of print packages and types. Available options include, canvas wraps, metallic prints etc. Let me know what you have in mind and I am happy to quote.
Below are a few samples from 2015-16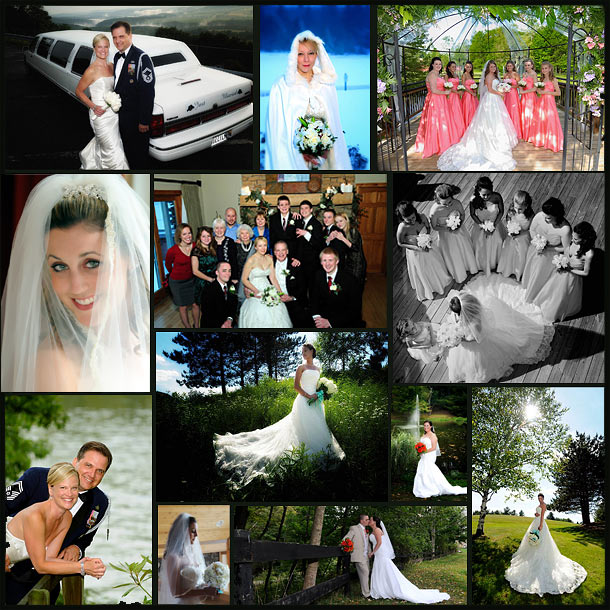 "Crede at Vision Quest Studios does wonderful work! We have worked with him numerous times and everything always turns out fabulous. His work is very elegant, classic and beautiful!"
Railey Mountain Lake Vacations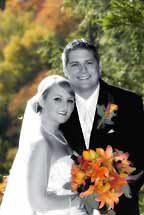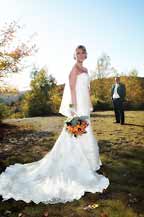 Blackwater Falls and Cannan Valley State Park
by Wedding Photographer
Crede Calhoun
---
---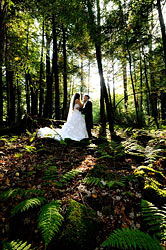 Call 1-800-446-7554 to set up a personal meeting
or speak with Crede.
WEDDING PHOTOGRAPHER QUESTIONS? FAQ
SAMPLE CONTRACT AND TERMS AND CONDITIONS