Mid Atlantic and Deep Creek Lake
Family Photography (Anytime of Year)
by Crede
Family Portrait Sittings indoors or outside at your vacation home, or at several available locations such as Swallow Falls or Deep Creek Lake State Park. Family portraits at Nemacolin Woodlands, and Cannan Valley are also available.
These two packages include the same items, the only difference is Crede's time at your location.
Package One
$425.00 Family Photography Package
2 Hour Session
Package Two
$275.00 Family Photography Package
1 Hour Session

If my shedule that day can accommodate it
Additional 1/2 hours over the Scheduled Package Time are $100 per 1/2 hour
---
WHATS INCLUDED
•A CD/DVD of all the full resolution images (approx 70+150+ photos)
CD's are produced with a custom Laser Etched CD face label that has the family name, date, and a photo of the family. Includes jewel case. Master cd can be duplicated and has no watermarks, copyrights or protections.
Additional Etched CD's are $15.00 each. May be ordered at the time of the sitting. One is included in the sitting fee.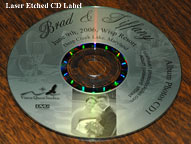 •Included on the DVD are email sized images
•Included on theDVD are images at full resolution
•These images can be taken to any photo lab. We recommend you patronize a good local professional photography lab that will take the time to deliver the nicest prints as opposed to big box labs. The lab that produces the prints and photo products that you can buy online is SUPERB!
NEW SERVICE ADDED!
Your family photos will all be posted online for viewing and the secure purchase of prints and other neat photo products (such as greeting cards, calendars, photo books etc) No obligation, this is just an extra FREE service to make viewing and ordering prints easier for you. You still get the CD's of course.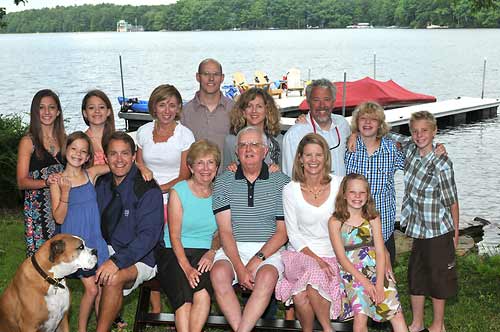 Click Images for Brief Slideshows (wait till page fully loads)
Terms For Scheduling
Due to my intense summer schedule Crede can only accept
a limited number of family photo sessions a year.
If you like mhis work, please make your reservations as early as possible.
Scheduling a photography session requires a non-refundable $100 deposit for a one hour session and a non-refundable $125 for a two hour session.
If you cancel, you may re-schedule for up to one year.
Balance due is payable upon Crede's arrival on-site.
Discs ship in 3-4 weeks from date of photo shoot, (sometimes much quicker).
Call toll free at 1-800-446-7554 for information and booking arrangements.
EMAIL
TESTIMONIALS
---
Crede,
What a joy to work with you for our family photos. You were casual, fun and yet very professional with our large family of 20 people. What a natural you are with children of all ages too! The pictures turned out wonderfully. They seemed to capture the tone we wanted of our family portraits. Everyone is pleased with the outcome and if we ever come back to Deep Creek and decide to get new family pictures taken, we will not hesitate to contact you!
Thanks again!
T. Jones
Director, Public Sector Programs and Strategic Initiatives
September 28, 2012
Symantec Corporation
---
October 14, 2010 9:33 AM
Hi Crede,
I wanted to send you a note to thank you for taking the Galkin family photos last weekend. We were a huge, loud group with lots of families and one really sick mother/grandmother but you made everything go very smoothly. I am really looking forward to seeing the photos when they are complete.
Thanks again!
Laura Vanzandt
Galkin Family Below

---
Crede,
Thank you for such a terrific job with our family reunion photos. Everyone is thrilled with the results.
Susan Caldwell
8/15/2010
---
Hi Crede -- I can't remember if I sent you this before, but we just LOVE
how the photos turned out!
Thank you again for your professional work. Happy new year. -- Paula
---
"We have shared the pictures with family all over the country..what a joy they are and so wonderful of all of us..especially Tyler, out of whom you finally coaxed a wry smile..that's a great one!! Thanks so much for sharing your talent with us..it is a wonderful memory of a great visit to Deep Creek." Jud & Nancy
---
Hi Crede
We received the disk. The pictures are great! I know everyone will enjoy them.
Thanks so much!
Bonnie
---
Crede:
Awesome pictures. Thank you so much. Please make three extra CD's.
Elliot
A Little About Me
I have had over 3,500 photos published in a wide range of magazines and publications such as Audubon, National Geographic Traveller, Outside, New England Journal, Southern Living, Maryland and Virginia Magazines, Town and Country and Paddler, as well as numerous brochures and catalogs. My photographs regularly appear on the cover of Deep Creek Magazine and the Lakefront., as well as the Vacation Guide. I am an experienced commercial and magazine editorial photographer and enjoy any photographic challenge from the pressures and creativity demanded at weddings to the technical aspects of studio and location photography for some of the best resorts and magazines in the country. I work with people all the time in my role as a photographer as well as my role as an accomplished wilderness guide and outdoor educator with my other company All Earth Tours.
I shoot with 12 megapixel Nikon D300 cameras and Nikon EDIF 'fast glass' lenses. The high resolution images that you own and I deliver on disk to you are suitable for up 24X36 inch prints. I personally tweak, process and adjust each image on disk for best output. You can make your own slideshows, and photobooks! Plus you can order PRO LAB PRINTS from your custom family photo gallery I create for you at http://ccalhoun1.photostockplus.com Don'tr forget that my fee includes about 2-3 add'l hours of desktop image processing.
I am sure you will find me easy to work with...
and best of all FUN!!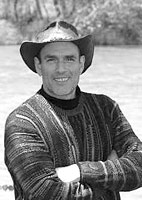 Trust your family photography to
Deep Creek Lake's
Award Winning Professional Photographer
Crede Calhoun
Wedding, Event, Commercial and Family Photography Since 1989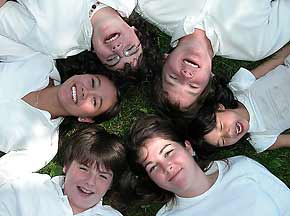 Family Photography Sample Gallery
I will photograph the following for you:

Large group photography.

Break out into smaller family groups.

Couples, children, singles and/or groupings of your choice (as time allows). Make a list for me to follow. One hour photo sessions limit the amount of set ups I can accomplish.

I stay on location for up to two hours (depending on your package). Please have your group ready. Add'l 30 minute time periods add'l $100. We understand the difficulties in organizing large family groups, and we are not too touchy on time issues until the two hour mark + gets reached.

I spend about an additional 2-3 hours reviewing your photos, adjusting them, designing and preparing the disk, uploading to the web, and shipping the disk to you. I also spend travel time getting to and from your location.
OPTIONAL SKI PHOTO SERVICE
Would you like your family photography at a local ski area? I am an expert skier and winter sports photographer and can spend the two hours taking action photos of the family as well as winter portraits and winter family group photos.
2 Hour Session $525.00
Winter Family Photography available at Wisp,
Timberline, Canaan Valley, Seven Springs, Nemacolin Woodlands,
and Whitetail (add'l 30 travel fee)
Common Questions and Testimonials
We Photograph Large Family Reunions
and Corporate or Party Events too!
Call for rates for full or half day/evening event coverage.
Let's Here It For the Girls!
Don't forget the boys!
| | |
| --- | --- |
| What are we paying for? | I spend up to one hour driving to and from your location (1/2 hour each way). I am on site for up to 2 hours (depending on your package). I personally process edit and adjust your images for high quality output not just good display on a monitor). I custom design a laser etched disk for you. I create and upload your images to an online gallery. I ship the discs to you. All in all I spend about 5-6 hours on your job. I am a professional location photographer and have lots of experience posing and getting good expressions out of my clients in any setting any time of year. I have been working in Photoshop since version 2.0 (almost 15 years) and understand all the technical details of digital imagery. |
| What's the best time to schedule? | Just about anytime except mid day. Some locations of course have different lighting at different times, however we are experts at working with the location and will do our best. If weather is a factor we may have the flexibility to change days or times. Winter portraits can be done indoors. Saturdays are difficult to schedule due to my wedding contracts. |
| Where do you take the pictures? | At your vacation home or location, we come to you. Or, you can arrange for a family photo session at one of the parks such as Swallow Falls State Park, or the lake front at Deep Creek Park. |
| How about clothes? | Browse the photography samples in our galleries, and get an idea. It's up to you. If your clothes are too nice it limits the ability of me to pose folks sitting or kneeling on the ground. |
| How large a group? | Any size. It's more a time issue. Large groups may take more time in the Break Out Phase of the sitting and hence may incur additional charges. Groups of 25 to 50 will have no problem getting the session within the alloted 2 hour time frame. |
| What's the delivery? | 4-5 weeks for final cd's/dvd's. All photos are posted online (and available for optional online ordering) in approx. 7-14 days. |